Arisun is an up-and-coming tire manufacturer specializing in the offroad industry for ATVs and UTVs. We got our hands on a set of their XC Plus sport quad tires to put through their paces. Running the right kind of off-road rubber on your machine can be the difference between winning a race or schooling your buddies out on the trails. We chose Yamaha's Raptor 700 to mount the $345.80 set of XC Plus tires on, and took it out to test on different types of terrain.
RUBBER SIDE DOWN

The Raptor 700 is a powerhouse that easily spins the rear tires in all types of terrain, and staying in control on the ATV is important. Arisun's XC Plus tires let the Raptor hook up well while still allowing it to slide the rear end in a controllable fashion. These tires are made of a soft rubber compound that provides good traction for different types of riding. They are six-ply tires, which makes them durable, and have three layers of nylon material built into the rubber to help prevent punctures. The sidewalls of the Arisuns flex well over rough terrain, providing a smooth ride, and they don't make the Raptor want to tip easily in corners. The front tires have a decent bite for cornering and steer the 700 in the direction the bars are pointed in. The rear XC Pluses are easy to break loose in corners, but will hook up when you want them to. The soft rubber knobs grab dirt and mud well and let the Raptor's power transfer to the ground far better than the stock tires did. We tested Arisun's XC Plus tires against a set of GBC's XC Master tires, which cost $60 for the front tires and $84 for the rears. The GBC front tires grabbed harder in turns than the Arisuns, but the rear tires did not hook up as quickly and would slide more often. The most noticeable advantage of the XC Master tires is that they felt a bit more connected to the ground.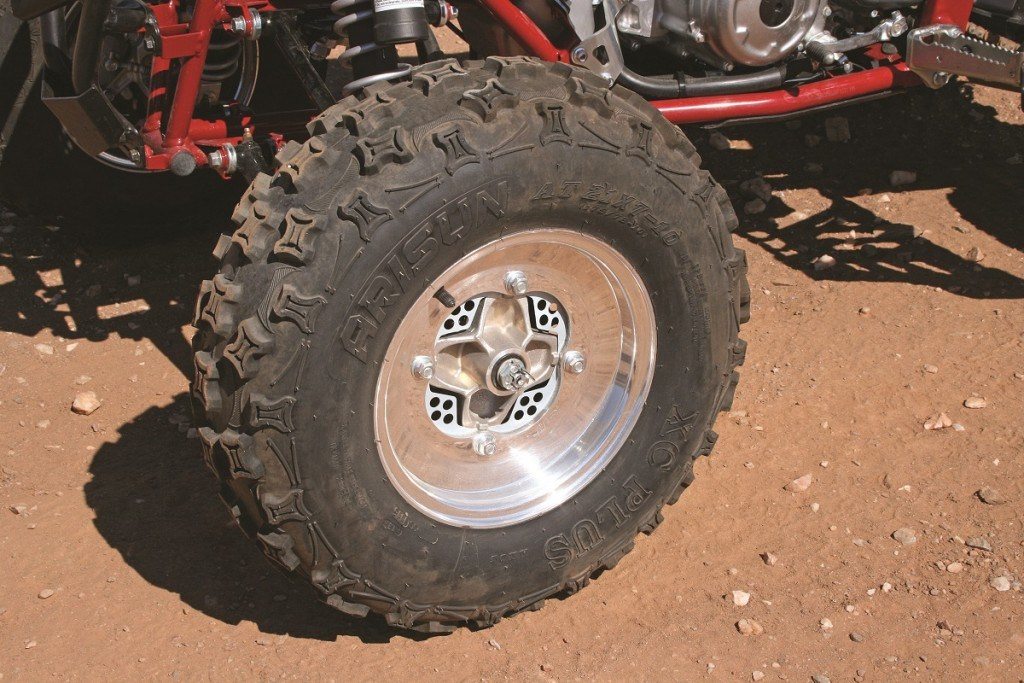 FINAL THOUGHTS
Arisun's XC Plus sport ATV tires provide great traction in different types of terrain and are long-lasting. The front tires cost $76.95 each, and the rear are $95.95 apiece. They are a bit on the pricey side but worth the money spent. The front tires come in sizes 21×7-10, 22×7-10 and 23×7-10. The rears are sized 20×11-8, 20×11-9, 22×11-9, 20×11-10 and 22×11-10. For more information on Arisun tires, go to www.psatireandwheel.com or call (714) 893-3311.